Sharp MX-M850 Drivers and Manual Downloads. Created for high-volume production environments, the new MX-M850 document system deliver lightning-fast output using robust multi-tasking performance, so your workflow never misses a beat. By having a standard paper capacity of 3,000 sheets, expandable to 8,050 sheets, the MX-M850 document system can manage large scale jobs by having incredible efficiency. Plus, a flexible paper handling system combined by using a large range of supported media allows these powerful performers to meet the requirements of any high-volume production environment from walk-up office environments and corporate data centers to high-volume CRD and service bureaus.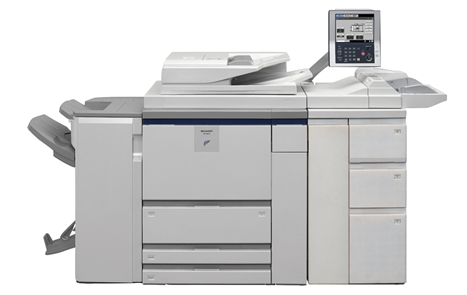 For large volume jobs or print jobs, pick from either the 4,500-sheet letter-size triple paper tray or the 4,000-sheet ledger-size triple paper tray– which supports paper weights up to 170 lb. index! For a lot more flexibility add the optional 500-sheet Auto-Bypass Tray. And by having flexible and versatile options from paper feed to finishing, along with highly customizable software architecture, the Sharp MX-M850/ M950/M1100 Series document systems follow the principles that have made Sharp the award-winning choice.
Key Features:
85-ppm digital MFP
Standard 3,000 sheet paper capacity
Paper capacity maximum: 8,050 sheets
High volume print production capability
Powerful 992 MHz true Multitasking document system
Optional professional finishing capabilities
Standard Duplexing Single Pass Feeder along with Scan2 ™.
Sharp MX-M850 Driver Downloads
| Name | Description | Associated Products | |
| --- | --- | --- | --- |
| MAC OS Driver Package Software for MX-M850 | Contains: Mac OS 10.8 to 10.11 Driver | MX-M850 | Download |
| Windows 32 bit OS Driver Package Includes: Contains: PCL, PS, PPD Drivers Software for MXM850 | Contains: PCL, PS, PPD Drivers | MX-M850 | Download |
| Windows 64 bit OS Driver Package Includes: Contains: PCL, PS, PPD Drivers Software for MXM850 | Contains: PCL, PS, PPD Drivers | MX-M850 | Download |
| Windows Software Option Package Includes: Contains: PC-FAX, Sharp Printer Monitor Drivers Software for MXM850 | Contains: PC-FAX, Sharp Printer Monitor Drivers | MX-M850 | Download |
| Mac OS Driver Package Software for MXM850 | Contains: Mac OS 10.8 – 10.12 | MX-M850 | Download |
Sharp MX-M850 Manual Downloads
| Name | Description | Associated Products |   |
| --- | --- | --- | --- |
| MX-M850 | MX-M950 | MX-M1100 Operation Manual Suite | | MX-M850 | Download |