Sharp MX-M700U Drivers & Software Downloads. Designed for high-volume work, Sharp MX-M700U model is a symbol of work productivity. With print speeds of approximately 55/62/70 ppm and printers with a standard online document paper capacity of 3,100 Plus sheets, 6,600 sheets with a choice of two options for Large Capacity Paper Decks, this printer can also do more work and less time of the. The ability to scan, copy, print and fax strongly to you, this multi-faceted Sharp MX-M700U will be part of the core of your workgroup. Besides the highly flexible input and output feature, it is possible to provide timely workgroups.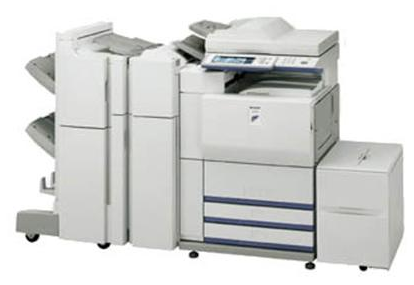 The new MX-M700U Monochrome Series also supplies Standard Document Filing sections, which permits the storage of always-used documents like forms and templates on the desktop. The version for the Sharp Monochrome Series can save approximately 20,000 pages, so everyone here on this network can also share and access documents more quickly.
Performance
Sharp MX-700U is an advanced, high intelligence multitasking machine built for speed and high-quality delivery in each print, copy and scan jobs. It has an engine speed of 70 ppm for A4 sheets and 39 ppm for A3 sheets. It has a large paper capacity and can hold a minimum of 3100 sheets approximately a maximum of 6600 sheets. The printer possesses a 40GB HDD memory storage and warms up for usage in lower than 120 seconds.
Sharp MX-M700U specs
The printer resolution of 600 x 600 dpi and enhanced resolution of 600 x 1200 enable the machine to deliver high-quality finishes with all job processes. The printer could be connected through its USB 1.1 and 2.0 or optionally connected as a network printer through the 10/100BaseTX interface. It has a maximum output capacity of 400 sheets and a maximum staple capacity of 50 sheets. It supports all Mac and Windows operating systems and has a readily 80 PCL fonts and 139 PS3 fonts.
The copier functions effectively at a substantial scale level with a maximum original paper size of A3 sheets and a resolution of 600 dpi. It has a very high zooming power and zooms through 25% to 400% with increments of 1%. It has a black & white gradation levels at 256 and a preset copy ratio at 10. Its first copy out time is 3.5 seconds for monochrome operations and prints as much as a maximum continuous copy of 999 copies.
As a high intelligence machine, the scanner can save files in various formats like PDF, TIFF, TIFF-F, TIFF-FX, and linearized PDF formats. It can send print files to the desktop, e-mail, network folders, and FTP servers. It has a document filing capacity of 20,000 pages for its main and custom folders and can allow 500 storage folders.
Sharp MX-M700U Driver Downloads
| Name | Description | Associated Products | |
| --- | --- | --- | --- |
| Windows 32 bit OS Driver Package Includes: PCL,PS, PPD, Universal Driver Software for MXM700U | PCL,PS, PPD, Universal Driver | MX-M700U | Download |
| Windows 64 bit OS Driver Package Includes: PCL,PS, PPD, Universal Driver Software for MXM700U | PCL,PS, PPD, Universal Driver | MX-M700U | Download |
| Windows Software Option Package Includes: Contains: PC-FAX, Sharp Printer Monitor Drivers Software for MXM700U | Contains: PC-FAX, Sharp Printer Monitor Drivers | MX-M700U | Download |
| Mac OS Driver Package Software for MXM700U | Contains: Mac OS 10.8 – 10.12 | MX-M700U | Download |
| Linux Linux/Cups PPD Software for MXM700U | Linux/Cups PPD | MX-M700U | Download |
Sharp MX-M700U Manual Downloads
| Name | Description | Associated Products |   |
| --- | --- | --- | --- |
| MX-M550 | MX-M620 | MX-M700 Brochure | | MX-M700U | Download |
| MX-M550 | MX-M620 | MX-M700 Specification Sheet | | MX-M700U | Download |