Sharp MX-M550U driver & manual free Downloads. A new  Copier innovation that will change every workgroup, Sharp MX-M550U monochrome digital photocopier is a multifunctional machine designed for fax, printing, copying, and scanning. The photo-copier has a dual paper feeding tray that delays to 1000 letter-sized sheets, a bypass tray that holds 100 sheets plus an optional large capacity tray for large operations.
Its standard paper capacity is 3100 sheets, a copy speed of 55 ppm for letter-size paper, and it heats up in less than 120 seconds. It is a copy centric machine and can be upgraded to the N version and network-ready machine with document filing capabilities.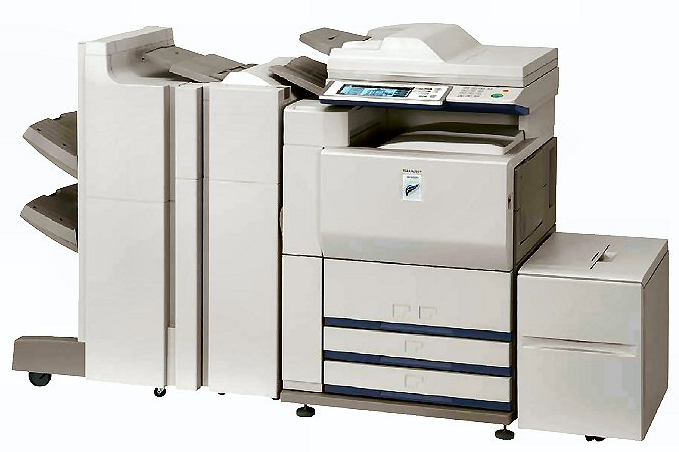 Specs
The photo copier uses 40GB HDD storage space and a standard 128MB of RAM upgradable to 384MB of RAM. Sharp MX-M550U has a copy resolution of 600 x 600 dpi, a first copy time of 3.5 seconds and can make the continuous copy of up to 999 copies. The zooming power maintains quality and varies between 25% to 200% with duplex single pass feeder and 25% to 400% in 1% increments.
The network scanning development kit uses Sharpdesk desktop document management software preinstalled with 10 user license and secure FTPS support. The network scanner is secured with SSL security, Email server authentication, and user account control. Remote connection network protocols include IPv4, IPv6, and IPSec (LPD), IPX/SPX, TCP/IP, Ether Talk, and AppleTalk. The network scanner can deliver to the desktop, e-mail, shared folders, FTP servers, fax; directly to a total of 999 destinations.
The printing system has a standard 600 x 600 dpi resolution and 1200 x 600 dpi for smoothing. It uses a high-speed USB 2.0 connection port, and Sharp MX-M550U driver supports all Windows and other Mac operating systems. The network printer can be shared in a workgroup through IPX/SPX, IPv4; IPv6 and other network protocols or connected to using an Ethernet; 10/100BaseT interface.
Sharp MX-M550U printer driver Operating Systems
Supported OS: Windows 10 32-bit, Windows 10 64-bit, Windows 8.1 32-bit, Windows 8.1 64-bit, Windows 8 32-bit, Windows 8 64-bit, Windows 7 32-bit, Windows 7 64-bit, Windows Vista 32-bit, Windows Vista 64-bit, Windows XP 32-bit, Windows XP 64-bit
Sharp MX-M550U Driver Downloads
| Name | Description | Associated Products | |
| --- | --- | --- | --- |
| Windows 32 bit OS Driver Package Includes: PCL,PS, PPD, Universal Driver Software for MXM550U | PCL,PS, PPD, Universal Driver | MX-M550U | Download |
| Windows 64 bit OS Driver Package Includes: PCL,PS, PPD, Universal Driver Software for MXM550U | PCL,PS, PPD, Universal Driver | MX-M550U | Download |
| Windows Software Option Package Includes: Contains: PC-FAX, Sharp Printer Monitor Drivers Software for MXM550U | Contains: PC-FAX, Sharp Printer Monitor Drivers | MX-M550U | Download |
| MAC OS Driver Package Mac OS Driver Package Software for MXM550U | Contains: Mac OS 10.8 – 10.12 | MX-M550U | Download |
| Linux Linux/Cups PPD Software for MXM550U | Linux/Cups PPD | MX-M550U | Download |
Sharp MX-M550U Manual Downloads
| Name | Description | Associated Products |   |
| --- | --- | --- | --- |
| MX-M550 | MX-M620 | MX-M700 Brochure | | MX-M550U | Download |
| MX-M550 | MX-M620 | MX-M700 Specification Sheet | | MX-M550U | Download |