Sharp MX-M450N driver & manual free downloads.  The selection of office equipment can make a difference to business performance. With Sharp MX-M450N, maximizing your document management systems becomes way more comfortable. This sharp series is a powerful centralized machine that offers a host of productivity-boosting. It is super fast with an engine speed of 45 ppm and 20 ppm for A4 and A3 sheets respectively.
The copier's paper feeding system has a conventional paper capacity of 500 sheets and a maximum capacity of 3100 sheets. As a modern machine, the minimum memory is 128MB of RAM, and the maximum is 384 MB of RAM.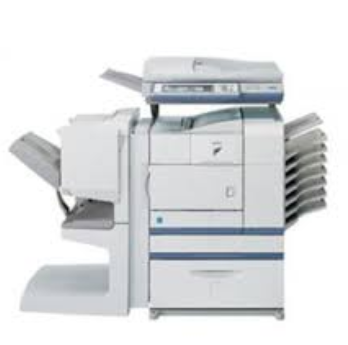 Specs
The copier boasts digitally of its 40GB hard disk storage and less than 80 seconds warm-up time. The copier completes its first-time copy in 4.4 seconds and can make up to 999 continuous copies. The black & white scan resolution is 600 x 600 dpi while the copy resolution is 600 x 600 dpi. This copier delivers at top quality as it zooms through a range of 25% to 400%. It has a preset ratio of 10 and uses 5 for enlargement and 5 for reduction.
The regular printing resolution is readied to 600 x 600 dpi and could be enhanced to 600 x 1200 dpi for first class. As the N-version of this Sharp series, it comes with an optional regular network printer for shared usage. A high-speed USB 2.0 and 10/100BaseTX are the basic available connection interface. The common supported Operating System is Windows while the supported optional ranges from Mac 9.0 to Mac 10.5.1 Operating Systems.
The built-in scanner is an optional regular network scanner with the pull-scan and the push-scan methods. The network scanner scans with first class using a 600 x 600 dpi resolution. As a network printer, it could be accessed directly for personal use or shared for workgroup operations. The MX-M450N distinct itself from the U-version with a unique document filling capacity and stuns a private password protected storage.
Sharp MX-M450N Driver Downloads
| Name | Description | Associated Products | |
| --- | --- | --- | --- |
| Windows 32 bit OS Driver Package Includes: PCL,PS, PPD, Universal Driver Software for MXM450N | PCL,PS, PPD, Universal Driver | MX-M450N | Download |
| Windows 64 bit OS Driver Package Includes: PCL,PS, PPD, Universal Driver Software for MXM450N | PCL,PS, PPD, Universal Driver | MX-M450N | Download |
| Windows Software Option Package Includes: Contains: PC-FAX, Sharp Printer Monitor Drivers Software for MXM450N | Contains: PC-FAX, Sharp Printer Monitor Drivers | MX-M450N | Download |
| Windows Software Option Package Includes: Sharp Printer Monitor Software for MXM450N | Sharp Printer Monitor | MX-M450N | Download |
| MAC OS Driver Package Mac OS Driver Package Software for MXM450N | Contains: Mac OS 10.8 – 10.12 | MX-M450N | Download |
| Linux Linux/Cups PPD Software for MXM450N | Linux/Cups PPD | MX-M450N | Download |
Sharp MX-M450N Manual Downloads
| Name | Description | Associated Products | |
| --- | --- | --- | --- |
| MX-M350U | MX-M450U | MX-M350N | MX-M450N Operation Manual | | MX-M450N | Download |