Sharp MX-M1055 Driver and Manual Downloads. The speed of the Sharp MX-M1055 model engine depends on the paper size in use. When using the A4 size, the rate is up to 120/105 pages per minute (ppm). With the A3 paper size in use, the maximum speed is about 54/52 ppm, while the SRA3 runs at 52/49ppm. It also has a control panel that is up to 15.4 inches of color liquid crystal display (LCD). In terms of the paper specifications, the standard sizes include 1200 sheets in the main tray. There are additional trays that can hold up to 500 plain sheets each.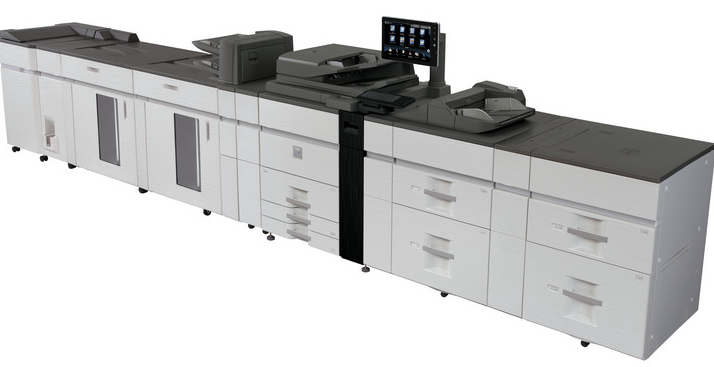 Specs
The warm-up time for the printer is only about 210 seconds, while the internal memory size is 5 GB. This site is of the shared memory while it is expandable to 1 TB of HDD. In terms of the power requirements, the voltage range is between 220 and 240 volts with a current of 13 A. These power specifications include a frequency of 50/60 Hz while the maximum consumption is about 2.99 KW. By physical dimensions, the height of the machine is about 1529 mm, while the width is up to 1099 mm. The interface options include the USB 2.0, 10 Base-T/100Base-TX/1000Base-T.
The depth of the Sharp MX-M1055 model is up to 775 mm while the weight is up to 300 kg. As a multifunction printer, the copier supports the A3 paper size as the maximum compatible size. The first-time production is up to 3.2 seconds and can produce up to 9999 copies. When scanning, the maximum possible resolution is 600 x 600 dpi. While printing, the maximum resolution is up to 1200 x 1200 dpi. The depth gradation is equivalent to 256 levels, while the zoom range is between 25 to 400%. Its compatible print language involves PCL 6 emulation and Adobe postscript 3.
Sharp MX-M1055 Driver for Windows
Supported OS: Windows 10 32-bit, Windows 10 64-bit, Windows 8.1 32-bit, Windows 8.1 64-bit, Windows 8 32-bit, Windows 8 64-bit, Windows 7 32-bit, Windows 7 64-bit, Windows XP 32-bit, Windows XP 64-bit
Printer Driver
Scanner Driver
Utility Software
Printer Status Monitor [Windows 32 & 64 bit]  Download
Sharp MX-M1055 Driver for MAC
Supported macOS: macOS Mojave 10.14.x, macOS High Sierra 10.13.x, macOS Sierra 10.12.x, Mac OS X El Capitan 10.11.x, Mac OS X Yosemite 10.10.x, Mac OS X Mavericks 10.9.x, Mac OS X Mountain Lion 10.8.x, Mac OS Lion X 10.7.x
Printer Driver