Sharp MX-C400P Driver and Software Download. Beginning with the power specifications of the machine, the Sharp MX-C400P model runs on 120 volts of an AC. In the same way, the optimum power consumption in the printer is up to 1.44 KW, while the frequency of 60 Hz. The physical dimensions include a width of 560 mm while the depth is up to 438 mm. On the other hand, the height of the machine is about 610 mm, while the weight is up to 44 kg. The dimensions are different when the printer is still in the package.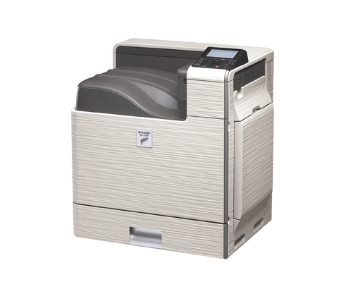 Specs
Sharp MX-C400P model printer is also a digital full-color printer and suitable for use as a desktop device. It also has a liquid crystal display (LCD) for color, and that feature is up to 4.3 inches. There is an OPC drum of photoconductive with electrophotographic laser print technology and heat rollers fusing system. The classic developer system is also the dry-type two-component magnetic brush development.
The printing resolution of the machine is about 600 x 600 dots per inch (dpi), while the maximum is 1200 × 1200 dpi. In terms of the printing gradation, it is equivalent to 256 levels, but the internal memory of the device is 1 GB. The printer driver type includes PCL 5c, PCL 6, postscript three compatible, and the XPS. It supports protocols such as TCP/IP, NetBEUI, EtherTalk, and the IPX/SPX.
The said languages work with at least 80 European fonts and 28 barcode fonts. Users can make use of LAN 10/100/1000 Base-T and USB 2.0 hi-speed connectivity. The warm-up time takes about 90 seconds or less, but it may also vary, depending on the ambient conditions. The color of the print time is about 8.9 seconds or even less. When printing in black and white, it takes about 8.0 seconds or less time.
Sharp MX-C400P printer driver Supported Windows OS
Supported OS: Windows 10 32-bit, Windows 10 64-bit, Windows 8.1 32-bit, Windows 8.1 64-bit, Windows 8 32-bit, Windows 8 64-bit, Windows 7 32-bit, Windows 7 64-bit, Windows Vista 32-bit, Windows Vista 64-bit, Windows XP 32-bit, Windows XP 64-bit.
Sharp MX-C400P driver Supported Mac OS
Supported OS: macOS High Sierra 10.13.x, macOS Sierra 10.12.x, Mac OS X El Capitan 10.11.x, Mac OS X Yosemite 10.10.x, Mac OS X Mavericks 10.9.x, Mac OS X Mountain Lion 10.8.x.
Paper Compatibility
Paper for the box drawer (16-28 lb. bond).
Other paper (plain/pre-print/recycling/pre-punched/letterhead/paper colors).
Bypass Tray 16-28 lb. bond to plain paper 15-16 lb.
For thin paper, 28 lb. Bond 110 lb. index.
Sharp MX-C400P Driver & Utilities Download
| | Print Drivers Software Mac OS 10.10-10.12 |
| --- | --- |
| | Print Drivers Software Mac OS 10.4-10.9 |
| --- | --- |
| | PCL/PS/PPD Drivers Package Windows 32 bit |
| --- | --- |
| | PCL/PS/PPD Drivers Package Windows 64 bit |
| --- | --- |
| | Sharp Printer Monitor Software |
| --- | --- |
| | Universal Driver Windows 32-64 bit |
| --- | --- |