Sharp MX-4070N Driver Downloads. Some of the key features of the Sharp MX-4070N model include an easy to use stand-out characteristics. This feature consists of a customizable touchscreen display with a user-friendly graphical interface with a clean design and simplified, secure mode. It can also work with a simplified, safe manner and integrated operation mode. The machine also has the Sharp OSA technology for easy integration of network applications and cloud services. It is way easier to manage the userâEUR ™ s workflow with this model that has many excellent properties.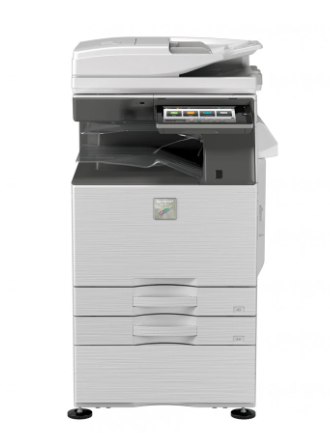 Specs
This machine is a color multifunction digital document system for copying, printing, network printing, network scanning, document filing, and faxing. The copying system supports the dry electrostatic transfer, dual-component developer, belt-fusing, white LED exposure, OPC drums, and magnetic brush development. While copying, the multiple copies of the machine will produce up to 9999 prints from a single original text.
The first copy time also varies for platen glass as well as DSPF. The Sharp MX-4070N model, using platen glass, supports 4.7 seconds and 6.7 seconds for monochrome and color, respectively. On the other hand, the DSPF runs at 7.3 and 10.0 seconds for monochrome and color copying, respectively. It takes about 10 seconds for this machine to be ready for work. In the copying mode, the printer can also zoom in between 25 and 400% in 1% gradual increments.
The original paper feeder can load up to 150 sheets of DSPF with a unique size detection. The standard paper tray will accommodate 650 sheets, while the maximum reach is 6300 sheets. Scanning runs at the speed of up to 200 images per minute for both color and monochrome modes. When copying, the rate is up to 200 ppm for black and white but 106 ppm for color. The supported paperweight is between 18 lbs and 110 lbs.
Sharp MX-4070N printer driver OS Supported
Windows 32 Bit
Windows 46 Bit
Mac Os
Linux
Sharp MX-4070N Driver Windows, Mac, and Linux
PS/PPD Printer – Driver

(Mac OS X 10.4-10.12) V. 1702a
PCL6/PS/PPD Printer – Driver

(Windows 32) V. 1704a
PCL6/PS/PPD Printer – Driver

(Windows 64) V. 1704a
TWAIN Scanner – Driver

(Windows 32/64) V. 1704a
| | |
| --- | --- |
| | PCFax Driver (Windows 32/64) V. 1702a |
| | |
| --- | --- |
| | SAP Device Type for SAP R/3, V. 01 |
| | |
| --- | --- |
| | IFAX Expansion Tool V. 0611a |
| | |
| --- | --- |
| | PS/PPD driver (Linux) Ver. 1.0 |
Install Assistant Tool – Windows

 V. 2.90a (Software)
Sharp Monitor – Windows,

 V. 1702a (Software)
| | |
| --- | --- |
| | Upgrade SharpdeskSharpdesk3.5 (Software) |
| | |
| --- | --- |
| | EasyUI for Windows, V. 1701a |
| | |
| --- | --- |
| | Sharp Monitor for Windows, V. 1602a |