Sharp MX-7001N Driver Downloads. Some of the outstanding features of the Sharp MX-7001N printer include a speedy output that reaches 50 pages per minute (ppm). This rate applies only to the color printing while the black and white mode runs at 70 ppm. The professional job finishing options include booklet making and post sheet insertion for optimum performance. The printer also has a large paper capacity of a maximum hold of 6600 sheets with the standard stackless duplex module.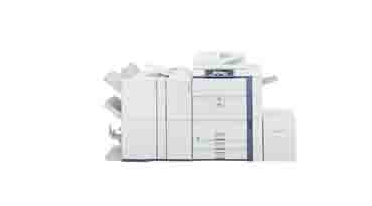 Specs
This model can hold about 150 sheets and supports the single pass feeder and printing on both sides of the paper. It uses a couple of high yield twin black toner cartridges with high printing capacity. There is also a new developer for high-quality imaging and an oil-less toner for brilliant colors. That feature, the standard print languages include PCL 5c, PCL 6, and an optional PS3 emulation. Its particular resource also consists of the Sharpdesk for easily integrated document management on a PC.
With the laser print technology, Sharp MX-7001N printer can get ready for printing only in less than 320 seconds. It also supports a paperweight between 60 and 209 gsm for the main paper trays. In terms of the internal memory, the standard capacity is 1280 MB while the optimum size is 80 GB HDD. The physical dimensions of the machine include a width of 795 mm and a depth of 715 mm. It has a height of 1225 mm while the weight is up to 209 kg.
Other notable features of the machine include a card shot, edge/center erase, job build, document filing, and document control. In the copying mode, it can produce up to 999 continuous copies. The first copy page comes out in less than 7.2 seconds if it in color. The black and white first time page comes out in less than 4.0 seconds.
Operating System
Windows 10 (32-64 bit) / Windows 8.1 (32-64 bit) / Windows 7 (32-64 bit) / Windows Server 2012 R2 (64 bit) / Windows Server 2012 (64 bit) / Windows Server 2008 R2 (64 bit) / Windows Server 2008 (32-64 bit).
Sharp MX-7001N Driver Downloads
Sharp MX-7001N Driver Downloads for Windows
PCL6 / PS / PPD Drivers (Sizes: 22,797,886 bytes) 
⇔
Download
File Name: MX_C28_PCL6_PS_1403a_EnglishUS_64bit.exe
Windows 10 (64 bit) / Windows 8.1 (64 bit) / Windows 7 (64 bit) / Windows Server 2012 R2 (64 bit) / Windows Server 2012 (64 bit) / Windows Server 2008 R2 (64 bit) / Windows Server 2008 (64 bit)
PCL6 / PS / PPD Drivers (Sizes: 21,721,198 bytes) 
⇔
Download
File Name: MX_C28_PCL6_PS_1403a_EnglishUS_32bit.exe
Windows 10 (32 bit) / Windows 8.1 (32 bit) / Windows 7 (32 bit) / Windows Server 2008 (32 bit)
Scanner Driver ver.3.01.039.000 
WHQL
 (Sizes: 5,137,928 bytes) 
⇔
Download
File Name: MX_S30_TWAIN_1810a_EnglishUS_32bit64bit.exe
Windows 10 (32-64 bit) / Windows 8.1 (32-64 bit) / Windows 7 (32-64 bit) / Windows Server 2012 R2 (64 bit) / Windows Server 2012 (64 bit) / Windows Server 2008 R2 (64 bit) / Windows Server 2008 (32-64 bit)
Scanner Driver ver.3.01.037.000 (Sizes: 5,140,296 bytes) 
⇔
Download
File Name: MX_S29_TWAIN_1807a_EnglishUS_32bit64bit.exe
Windows 10 (32-64 bit) / Windows 8.1 (32-64 bit) / Windows 7 (32-64 bit) / Windows Server 2012 R2 (64 bit) / Windows Server 2012 (64 bit) / Windows Server 2008 R2 (64 bit) / Windows Server 2008 (32-64 bit)
PC-Fax Utility ver.3.8.2.15 (Sizes: 28,750,046 bytes) 
⇔
Download
File Name: MX_C28_PCFAX_1401a_EnglishUS_32bit64bit.exe
Windows 10 (32-64 bit) / Windows 8.1 (32-64 bit) / Windows 7 (32-64 bit) / Windows Server 2012 R2 (64 bit) / Windows Server 2012 (64 bit) / Windows Server 2008 R2 (64 bit) /
Windows Server 2008 (32-64 bit)
Sharp MX-7001N Driver Downloads for Mac OS
Mac PS Driver (Sizes: 17,482,344 bytes)
⇔
Download
File Name: MX-PBX1_1502a_Mac108-1010.dmg
Mac OS High Sierra 10.13 / Mac OS Sierra 10.12 / Mac OS X 10.11 / Mac OS X 10.10 / Mac OS X 10.9 / Mac OS X 10.8