Sharp MX-3110N Driver and Manual Download. Sharp MX-3110N is a cutting-edge selection that provides you one of the most advanced multifunctional printers. It comes with page editing function that let you edit scanned or saved data. It also has drag-and-drop procedure control through the LCD display. The machine has Digital Colour Enabled Copier with RSPF technology. The scan resolution is 600 x 600 dpi for both color and B/W file. About the zoom range, it works from 25% to 400%.
It is all that you need if you must have a printer, a copier, and a scanner. Its standard paper capacity is 600 sheets. The optimum cartridge paper is 5,600 pages. Sharp MX-3110N permits you to control all tasks through the 10.1-inch of colored LCD touch screen which is quite big for you to clearly see the font. You can convert any scanned documents to TIFF, encrypted PDF, JPEG, PDF, XPS, Compact PDF, as well as PDF/A.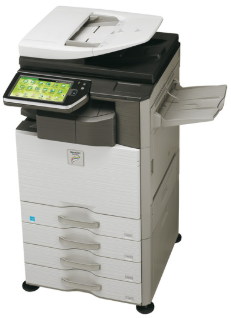 The Sharp MX-3110N operates with the speed about 30 to 39 pages per minute to print while to copy, it can do 31 copies per minute with both B/W and color type. The rapid warm-up is what you need since it only takes less than 20 seconds to warm-up before use. It is a great choice if you need both color and mono scanner.
There are some accessories to go with this machine such as finisher with stapler, saddle stitch finisher, paper pass unit, exit tray unit, and fax expansion unit for sending any messages. The paper drawer stand can hold 500 sheets and Sharp MX-3110N has 2-hole punch unit. The SharpDesk license is also available that allows you to get the easy access to all documents. Well, there are still many other accessories available. For example, you can use the wireless hub, cabinet, Keyleight account solution license for your document protection, Simplifyprint account solution license, 1 GB of expansion memory board, external account module, and XPS expansion kit.
Within verdict, Sharp MX-3110N is a color copier with 11 x 17-paper size standard, in which not all copiers have this feature. Its powerful electronic sorting system is the bonus for the owner. The optional retractable keyboard allows you to have easy data entry. The 1200 x 1200 dpi provides a fantastic color output. The standard network connection helps you to hook it easily to your system. A great machine can scan many file formats. The standard Duplex lets you copy two-sided documents too.
The brand new multifunction MX color collection is more significant than just a copier; it provides lots of progressed features such as a personalized home display dynamic action food selections that provide feature-specific guidance and a full-size retracting keyboard for effortless information access.
As well as likewise with Sharp's enhanced second-generation micro-fine printer toner modern technology as well as exact 1200 x 1200 dpi print settlement, these brand-new multifunction copiers can assist your company in creating a specialist looking color documents interior with fantastic image high quality that is additionally economical.
The brand-new MX-2610N|MX-3110N|MX-3610N shade series multi function photocopiers have been built on the current Sharp OSA Development System helping make the combination with network applications as well as cloud solutions more accessible than ever. And also along with Sharp's industry-leading safety and security platform with typical 256 little bit data security copyright is well shielded.
Sharp MX-3110N Specifications
Maximum format: A3
Automatic duplex printing: yes
Number of colors: 4
Maximum resolution b/W printing: 1200×1200 dpi
The maximum resolution for color printing: 1200×1200 dpi
Print speed: 31 pages per minute (b/W A4), 31 ppm (color. A4), 15 ppm (h/b A3), 15 ppm (color. A3)
Warm-up time: 20
Scanner type: tablet/plangent
The maximum size of the original: A3
Color depth: 8 bit
Scanner resolution: 600×600 dpi
Scanner resolution (enhanced): 9600×9600 dpi
Autofeed originals: bilateral
The capacity of the device ADF originals: 100 sheets
Scanning speed (b/W): up to 50 originals per minute
Standards support: TWAIN
Sending an image via e-mail: yes
Maximum resolution copier (h/b): 600×600 dpi
Maximum resolution copier (W image.): 600×600 dpi
Copy speed: 31 pages per minute (b/W A4), 31 ppm (color. A4), 15 ppm (h/b A3), 15 ppm (color. A3)
The first copy out time: 5.8 with
Change the scale: 25-400 %
The maximum number of copies per cycle: 999
Additional information
OS support: Windows, Mac OS
Display information: color LCD display
Display diagonal: 10.1 inch.
Power consumption (in operation): 1840 W
Dimensions (WxHxD): 583x834x658 mm
Weight: 74 kg
Features: interactive display
Sharp MX-3110N is compatible with OS
* Microsoft Windows.
* Macintosh OS X.
* Linux.
Sharp MX-3110N Driver & Manual Downloads
Update Drivers for the latest version Sharp MX-3110N Printer
Download ↔ Windows 64 bit OS Driver Package Software
Download ↔ Windows 32 bit OS Driver Package Software
Download ↔ MAC OS Driver Package Software
Download ↔ MX-3610N Quick Start Guide