Sharp MX-3570N Driver Downloads. The base models of the machine include a multitasking controller with 150-sheet DSPF with PCL 6 and an Adobe postscript 3. These printing systems also work with network scanning, auto-duplexing features with the added black/color developers. At the same time, the machine has a color multifunction digital document system for optimum print performance. The display feature on the control panel measures up to 10.1 inches in diagonal for color dot matrix high-resolution touchpanel.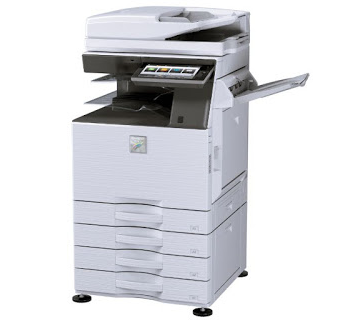 Specs
The essential print functions include copying, printing, network printing, network scanning, document filing, and faxing. Inside the copy, the system is also dry electrostatic transfer, dual-component developer, and magnetic brush development. Other options include OPC drums, belt fusing, and a white LED exposure gradient. The maximum copy speed of also about 35 and 40 pages per minute (ppm) for monochrome and color modes. It can also produce up to 9999 copies at maximum production from one document.
When copying, the first copy out time is about 4.7 seconds and 6.7 seconds for monochrome and color modes, respectively. These rates pertain to platen glass, but when the DSPF is in use, the proportions are 7.3 seconds and 10.0 seconds, respectively. Generally, before being ready to work, the warm-up time for the machine is about 10 seconds or even less. Its magnification is between 25% and 400% of the original size of the document in 1% gradual increments.
The speed of the scanning process is up to 200 images per minute (ppm) for monochrome and 106 ipm for color. Its standard input tray paper load is typically about 650 sheets, while the maximum capacity is 6300 sheets. The supported paper types include legal, letter, ledger, statement sizes for the standard trays as well as other options. Paper drawers support a weight range between 18 lbs and 110 lbs for the cover.
Sharp MX-3570N Features
Print, Copy, Scan, Fax, File
Pages per minute: 35 B/W 35 Colour
Paper capacity: Std 650 Max 6,300 sheets
Customisable, tiltable 10.1 inch colour LCD touchscreen with easy UI mode enables intuitive navigation of MFP functions
Print Release function gives users the ability to send and store documents on a main MFP for authentication and print out from any networked MFP
Single sign-on brings easy access to public cloud storage services
Shorter warm up time and motion sensor ensures that the device is always ready for immediate operation
OCR allows users to convert scanned documents into editable MS Office files (pptx, xlsx, docx) and searchable PDFs
Sharp MX-3570N Specifications
Resolution (dpi) 1200 x 1200, 600 x 600, 9600 x 600
Interface Std/Opt STD USB 1.1, USB 2.0,10Base-T/100Base-TX/1000Base-T
Supported OS Standard Windows Server 2008/2008R2/2012, 2012R2, Windows Vista, Windows 7, Windows 8, 8.1, Mac OS X 10.4, 10.5, 10.6, 10.7, 10.8, 10.9, 10.10
Network protocols TCP/IP (IPv4 and IPv6)
Printing protocols LPR, Raw TCP (port 9100), POP3 (e-mail printing), HTTP, FTP for downloading print files, IPP
PDL Std/Opt STD PCL 6 emulation, Adobe® PostScript® 3™
Available fonts 80 (PCL), 139 (Adobe PostScript 3)
Continuous copy (Max. copies) 9,999
Resolution Scan B/W (dpi) 600 x 600, 600 x 400
Resolution Scan Colour (dpi) 600 x 600
Resolution Print (dpi) 1200 x 1200, 600 x 600, 9600 x 600
Resolution push scan (dpi) 100, 150, 200, 300, 400, 600
Resolution pull scan (dpi) 75, 100, 150, 200, 300, 400, 600, 50 to 9600
File formats TIFF, PDF, PDF/A, encrypted PDF, compact PDF, JPEG, XPS, searchable PDF, Microsoft Office (pp tax, lxxx, Docx), text (TXT), rich text (RTF)
Scanner utilities Sharp Network Scanner Tool, Sharpdesk, Sharpdesk Mobile
Sharp MX-3570N Driver Download for Windows, Mac, Linux
System Operation
Download
Windows 32 bit WHQL OS Driver Package Software
MX-3570N Contains: WHQL PCL, PS, PPD Print Drivers
Download
Windows 64 bit WHQL OS Driver Package Software
MX-3570N Contains: WHQL PCL, PS, PPD Print Drivers
Download
Windows OS Fax Driver Package Software
MX-3570N Contains: PC Fax Print Drivers
Download
Windows OS Driver Package Software
MX-3570N Contains: Universal Print Driver
Download
MAC OS Driver Package Software
MX-3570N Contains: Mac PPD 10.10 through 10.12 Print Drivers
Download
Windows OS WHQL TWAIN Driver Package Software
MX-3570N Contains: WHQL TWAIN Drivers
Download
Linux/Cups PPD for MX-3570N Contains: Linux/Cups PPD
Download